August 16, 2022 | Midnight Cellars
SLO VISITORS GUIDE | SIP WINE AND ENJOY LIVE MUSIC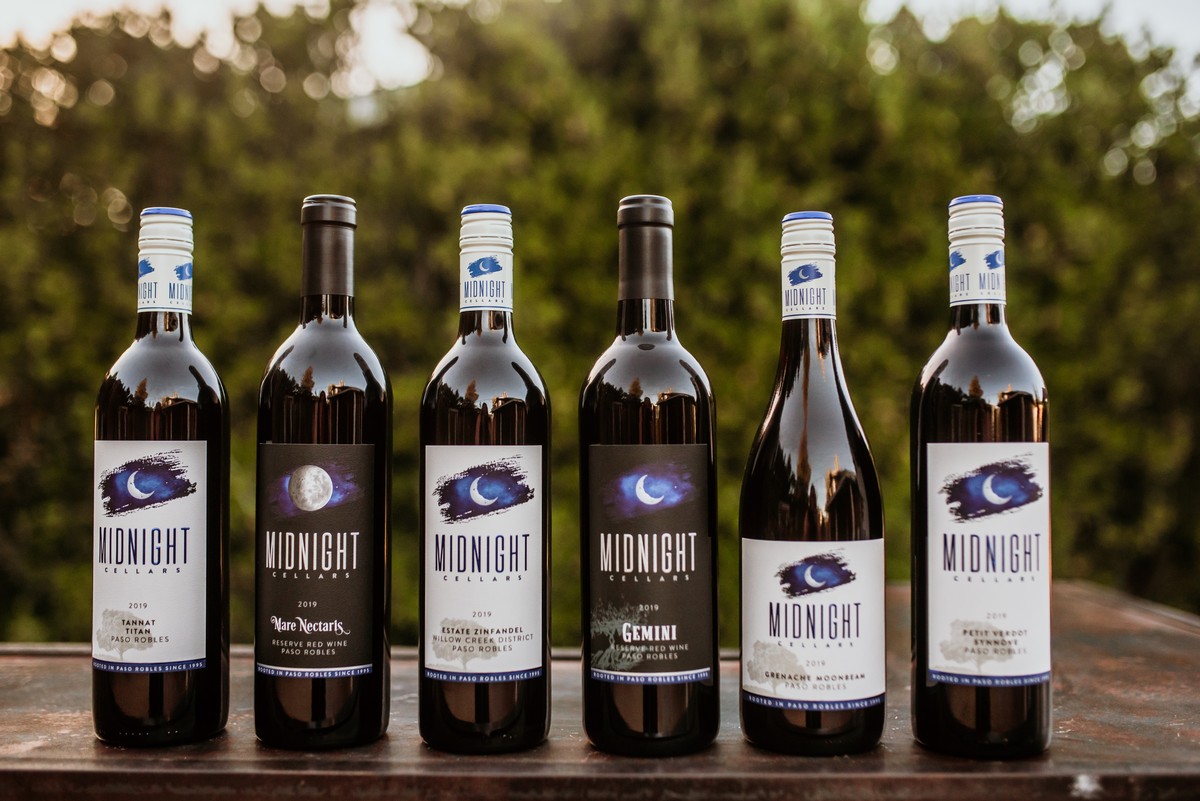 San luis obispo county
vistors guide
THIS SUMMER AT
MIDNIGHT CELLARS
---
Family-owned, multi-generational winery produces estate-grown wines with attention to detail
—Midnight Cellars is a multi-generational winery that began in 1995. Back then, Robert and Mary Jane Hartenberger along with their sons and daughter-in-law, left everything behind in Chicago and migrated to Paso Robles to fulfill their dad's dream of owning a winey. It has since been passed down to their son Richard Hartenberger, now a second-generation owner and winemaker.
The Hartenberger family planted the 30-acre estate vineyard in the spring of 1995. The vineyard, now part of the esteemed Willow Creek District AVA, is comprised of five different, trellis-trained varietals: eight acres of chardonnay, eight acres of cabernet sauvignon, eight acres of merlot, eight acres of zinfandel, and a half-acre of petit verdot. Two acres of head-trained malbec were later planted on the tasting room property, which is located off Highway 46 West.
The established vineyards now yield one to two tons of prime fruit per acre. The grapes are hand-harvested when ripe, requiring a bit more time on the vine to assure the acidity necessary to produce wines with more strength and age ability. Midnight Cellars strives to grow concentrated, bold fruit each year. Their estate-grown fruit is not sold to other producers; it remains solely in the Midnight wine portfolio.
Midnight's production facility is located on their Anderson Road property, adjacent to the tasting room. During harvest, fruit is brought in and is two-table sorted, fermented, and barrel stored in French oak.
The Midnight Cellars Tasting Garden is their newest feature not to be missed. Their beautiful garden is now the site of outdoor tastings, picnics and live music events.
"In regards to the future of Midnight Cellars and Paso Robles as a whole, I am hopeful that we can keep pace with the newcomers and the influx of money into the area," says Owner/Winemaker Rich Hartenberger. "We will continue to build and improve our fantastic team and always keep Midnight Cellars a fun family-first environment. My kids are out making their own marks on society currently, but by the time I am ready to retire, hopefully, at least one of them will get bitten by the winery owner lifestyle and comes to join me in the business. The future of Midnight Cellars AND Paso Robles is bright and full of promise!"
Great wine, live music
Midnight Cellars is featuring "Acoustic Saturdays" now through October at their Tasting Room Garden. They will also be hosting a "Twilight Concert Series" on Sundays from June 5 to Aug. 28. The concert series will have food trucks on-site and wine available by the glass or bottle. The series is family-friendly; there will be a bounce house, and yard games set up, along with a "Frosé" machine through August. The concert series is $5 for entry, free for wine club members (limit two), kids, and industry. For more information about both concert series, visit midnightcellars.com/events.Enjoy the live music with Midnight Cellars' new releases this summer, including a grenache blanc, chardonnay, their Luna Rosé, and their Aurora Reserve; all perfect wines for Paso Robles' summers.
Midnight Cellars is located at 2925 Anderson Road in Paso Robles. They are open daily from 11 a.m. – 5:30 p.m. (Closed on the 4th of July) For more information about the winery, visit them online at midnightcellars.com or call (805) 239-8904.
—Skye Pratt
Comments
Commenting has been turned off.